Donation from Local Couple's Estate Endows Scholarship at King's College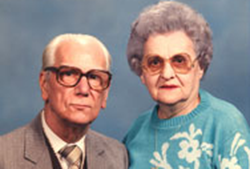 King's College has received a gift of more than $473,000 from the estate of Norbert and Victoria Gustitus of Exeter. According to the estate documents, the funds will be used to establish an endowed memorial scholarship in the couple's name to be given to "students who are financially in need of assistance and who are academically qualified to attend King's College."

Norbert, a lifelong resident of Exeter, and Victoria (Zierowicz), a native of Edwardsville, married in 1951 and operated the Gustitus Drug Store in Exeter until 1985. Norbert was a graduate of the Philadelphia College of Pharmacy and Science and a World War II Army veteran. He died in 1997. Victoria was employed by Blue Ribbon Bakery in Kingston before joining Norbert in the operation of the drug store. She passed away in 2009.

"King's is extremely grateful for the generosity of the late Mr. and Mrs. Gustitus," said Father John Ryan, C.S.C., College president. "Their gift will provide financial support on an annual basis to students for generations to come and will help King's continue its mission to educate the sons and daughters of working class families.'"

For information on making a planned gift or establishing a scholarship, please contact Lisa Shafer at 5702085882 or [email protected].


Copyright © King's College, All rights reserved.
The information on this website is not intended as legal or tax advice. For legal or tax advice, please consult an attorney. Figures cited in examples are for hypothetical purposes only and are subject to change. References to estate and income taxes apply to federal taxes only. State income/estate taxes or state law may impact your results.